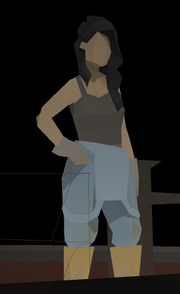 Cate is a character who first appears in
Act IV
. She is the captain of the
Mucky Mammoth
and helps transport the characters down the Echo River. Cate knows a great deal about mushrooms and their medicinal properties, having become interested in alternative medicine following a chance encounter outside of a hospital. She remarks that mushrooms "escape your erudition" and that, because of their elusive nature, they must be hunted rather than simply found or picked.
Cate is also a doula, assisting women on the surface in childbirth.
Ad blocker interference detected!
Wikia is a free-to-use site that makes money from advertising. We have a modified experience for viewers using ad blockers

Wikia is not accessible if you've made further modifications. Remove the custom ad blocker rule(s) and the page will load as expected.