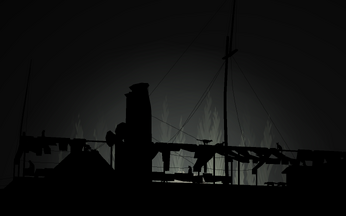 The Iron Pariah is a battleship that seems to be inhabited entirely by cats.
Ezra
and
Cate
see the ship ride by them while foraging for mushrooms in
Act IV
; the shrieks and wailing of cats can be heard well before the ship arrives on screen. Cate suggests that the Iron Pariah is rumored to have been a part of the Civil War. She also recounts a story of a friend of hers who accidentally encountered the ship while sailing, and found it to be eerily silent except for the sound of "mewing."
Shannon encounters a painter along the Echo River who exclusively paints shipwrecks, though he also has often attempted to sketch the Iron Pariah, but because of its elusiveness has had no luck in doing so.
Ad blocker interference detected!
Wikia is a free-to-use site that makes money from advertising. We have a modified experience for viewers using ad blockers

Wikia is not accessible if you've made further modifications. Remove the custom ad blocker rule(s) and the page will load as expected.